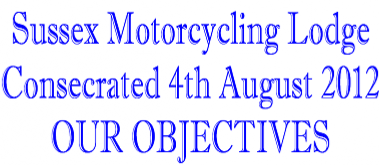 Our aims and objectives
When considering the aims and objectives for this new Lodge they fall into three simple areas:
Promote and practice the principles of Freemasonry
With affinity Lodges becoming increasingly numerous and successful, we view this Lodge as a fresh new and exciting platform from which to openly promote Freemasonry in our community. We are confident that this new Lodge will attract quality new brethren into the craft that may not have otherwise shared an initial common interest with their proposers or brethren. A key principle of the Lodge is that you will not have to ride or own a motorcycle to become a member but merely have an interest in them. We will also not be encouraging founding or joining members to transfer from their existing craft Lodges, hence we will be seeking to keep the annual subscription fees as low as possible. It will also provide a very new public face to Freemasonry within the community through member's attendance at various public events throughout the year.



Generating charitable funds and supporting charitable activities
A motorcycling lodge will create numerous opportunities for charitable activities. This will be achieved through a variety of means, from traditional festive boards and white tables as well as a supporting program of motorcycle related social activities such as ride-outs and attendance at popular annual events in the motorcycle calendar. The viability of this approach has already been demonstrated through charity donations to the PGM Relief Fund and TLC from recent charitable ride-out proceeds.


Promoting road safety
I am sure we are all aware of the frightening statistics of Motorcycle related incidents on our roads today, with Sussex featuring fairly highly in those league tables. Several of our proposed founding members are IAM qualified advanced riding observers and Driving Standards Agency approved motorcycling instructors. To this end we place improving road safety as one of the key objectives of our Lodge and we will be actively encouraging brethren to place road safety and riding standards at the top of their priorities.